We don't stop at just washing your windows. We clean all of the track frames around your window, both inside and out, to remove our coastal damp and humid environment's mold (fungus). This helps to contribute to indoor air quality. Don't let your toddlers or pets reaching to the window sills come in contact with mold. Interestingly the vinyl, wood or aluminum window frames are not the food sources for molds. Mold growth on these surfaces are feeding on organic debris such as skin cells, pollen, animal dander, dust mites, etc. that accumulate on these surfaces. We perform more work than is done by the usual window washing service provider. Doing these few things preserves the life of your windows and your family's health.
All screens are removed, rinsed, and re-installed. Additional services are an option such as scrubbing the mold off the side of your home. We can also clean off the mold formed on the exterior exposed sides, the face, of your gutters. And don't forget your skylights.
Don't Forget the Fall and Winter Seasons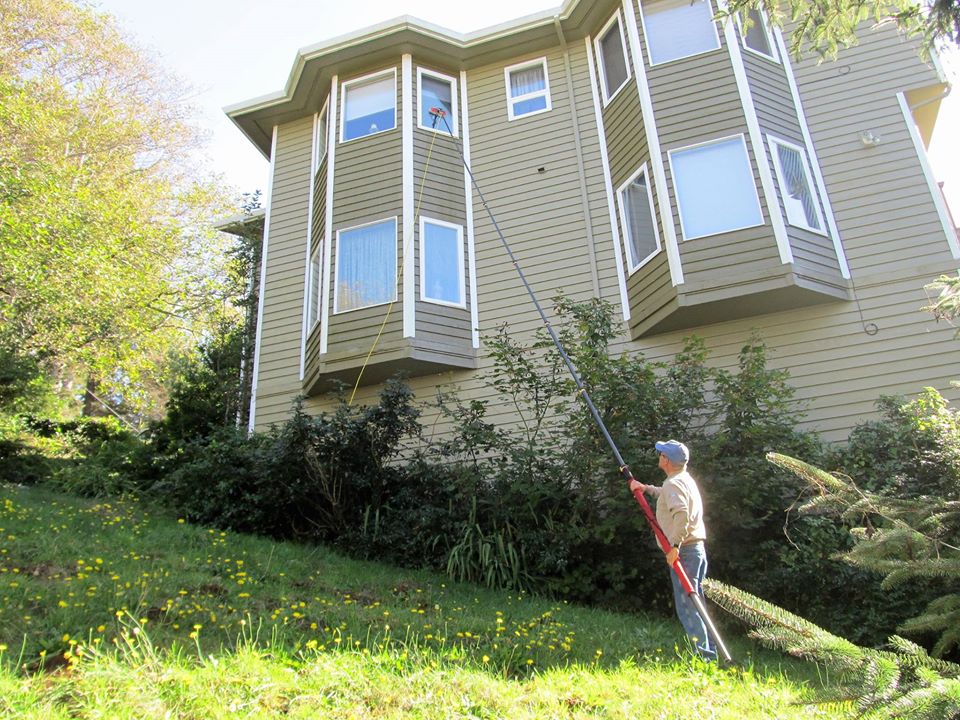 Heating promotes mold growth. Condensation is naturally drawn to the windows.
Keep Your Home Cozy and Safe All Year
Using the most up to date techniques our water-fed pole system is made of light, but strong, carbon fiber which allows us to easily complete jobs up to 3 stories tall. Taller is possible as well, just show us what you need.
For both homeowners and commercial customers, our method usually keeps us from having a ladder resting against your painted walls, or natural wood exteriors prone to scratching and denting. Costs are cut tremendously by not having to move ladders around.
Safe for us, and very beneficial for you, our set-up time is reduced considerably by using no ladders or scaffolding.
For our commercial clients we want to help ensure that your company's windows reflect your professionalism and attention to detail.